April,23,04. Zane had his first chemo treatment, he did well, but it made him very weak and sick. Mommy didn't take it well, it made her sad.
DONT CRY MOMMY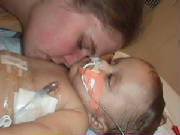 GOD IS WATCHING OVER US
Zane got to come home on April 29, 04, unfortunately on April 30, 04, he was life flighted to Ruby Memorial. With chemo, it makes his white blood cell deplete, and he got an infection, his body didnt respond well to the treatments, and they have to discontinue the treatments for a week to see how he is doing. He is now at Ruby Memorial in Morgantown WV. He is on medication to fight the infection, and to bring up his white blood cell count. Please Continue To Pray.
UPDATE: 5/1/04 Zane has an infection, no white blood cells, which is normal for someone taking chemo, they are giving him lots of antibiotics, it's a waiting game. They stopped his feeds for a while.
5/5/04 Zane seems to be doing a little better, he is very vocal today.
5/12/04 Transferes Zane to Children's Hospital Of Pittsburg, they want to see if he is well enough to resume the chemo treatments
5/13/04 They are wanting to do surgery on his stomach to keep him from throwing up, they want to do this on Monday 5/17, I will put in an update after he is out . PLEASE KEEP PRAYING
5/10/04 They did his surgery on Tuesday instead of Monday, sorry I didnt get on until today, he came throught the surgery fine, he is sleeping and resting now, I talked to Mary this morning, they started him on pedilite and are giving him pain medicine. I will up date again as soon as I can. I cant thank you enough for your prayers, it means so much to the family, and it keeps us going, GOD BLESS YOU ALL
5/22/04, up date; Zane is doing well, he is up to 25 cc's of formula, DR. said if he keeps doing well he may get to come home soon, THANK GOD!, Please keep praying. You are all in our prayers GOD BLESS